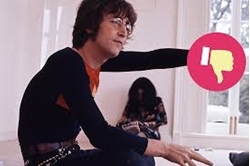 John Lennon's 1971 track "How Do You Sleep" levied a torrent of musical criticisms against Paul McCartney, but the former Beatles star didn't reserve judgment on his own work either. In fact, as the following list of 20 Beatles Songs That John Lennon Hated shows, he was an equal-opportunity critic.
Lennon tore into deep cuts, treasured favorites and no less than four songs that hit No. 1 on the American or U.K. charts. No sacred cow went un-slaughtered. Sometimes, he didn't like the arrangement or the take the group decided to use, other times he couldn't get past the lyrics. "I feel I could remake every fucking one of them better," he bluntly told David Sheff in a 1980 interview for Playboy.
All of it underscores just how brutally honest Lennon could be – even with the band that hurtled him to superstardom. Keep scrolling to see our list of 20 Beatles Songs That John Lennon Hated, presented in chronological order according to sessions dates.
Source: ultimateclassicrock.com