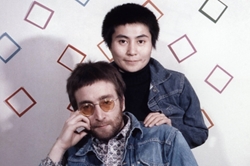 Paul and Linda McCartney weren't the only ones John Lennon had harsh words for in letter form.
An angry letter that Lennon wrote concerning the distribution of his and Yoko Ono's experimental album "Unfinished Music No. 1: Two Virgins" is being auctioned off by Boston-based RR Auction.
In the handwritten piece of correspondence, addressed to Martin George of Rock Ink & Roll Ink, the rock icon expresses frustration with difficulty in getting the 1968 record out to the masses.
"Yoko and I got Two Virgins out in spite of being past owners of Apple [the Beatles' record label]. We made it in May and they f–ked us about till November! Then E.M.I. (who have the real control) wrote warning letters to all their puppets around the world telling them not handle it in any way," the letter reads.
The album was the first music released by Lennon following the breakup of the Beatles. E.M.I., Apple's parent company, refused to distribute it due to the fully nude photo of John and Yoko that adorned its front and back.
By: Bryan Hood
Source: Page Six