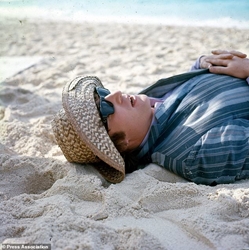 Unseen footage of the Beatles filmed more than 50 years ago is to go on sale.
The Fab Four were caught on camera by actor Leo McKern while on location in the Austrian Alps for the 1965 movie Help!
McKern was cast as Clang, the leader of a mystical cult determined to recover a ring from Ringo Starr's finger which would enable a sacrifice to proceed.
The late actor was a keen amateur photographer who took images on the major locations of the film – Obertauern in Austria, the Bahamas and Salisbury Plain.
He also put together a reel of 8mm film, running time 14 minutes 55 seconds and with no sound, which captured the Beatles and fellow cast and crew members in March 1965.
The footage is bookended by shots of McKern's then 10-year-old daughter, who grew up to become the actress Abigail McKern, sledging down a variety of inclines, taking a ride on a cable car and playing with her baby sister.
Source: Daily Mail