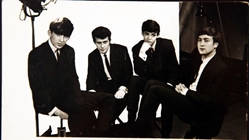 You might only know the Beatles as John, Paul, George and Ringo, but before there was a Starr, there was a Best. Often called the fifth Beatle, Pete Best was a member of the Fab Four just when Beatlemania was becoming a thing between 1960 and 1962.
Once the band -- with the help of manager Brian Epstein -- decided to replace Best with Starr, Beatles fans were outraged, chanting, "Pete forever, Ringo never!" And in their defense, Best is definitely still the best-looking out of the mop-top crew.
So, what's he up to now? On March 30-31, he and his brother Roag Best will be performing, answering questions and signing autographs at Queen Bee's (3925 Ohio Street) for the San Diego Beatles Fair.
Source: By Rutger Rosenborg/nbcsandiego.com