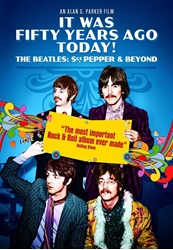 n all-new Beatles documentary, It Was Fifty Years Ago Today! The Beatles: Sgt. Pepper & Beyond, is being released in the U.S. on September 8 on DVD, Blu-ray and VOD, by BFD distributed by The Orchard.
The film is director by Alan G. Parker, the director of Monty Python: Almost The Truth, Rebel Truce: The Story of The Clash, Never Mind the Sex Pistols, and Who Killed Nancy, among many others.
The film features rare archival footage unseen since the 1960s plus rare interviews with the Beatles' original drummer Pete Best, John Lennon's sister Julia Baird, Beatles' manager Brian Epstein's secretary Barbara O'Donnell, Beatles associate Tony Bramwell, Pattie Boyd's sister Jenny Boyd, Beatles author Philip Norman, and more.

Source: Best Classic Bands