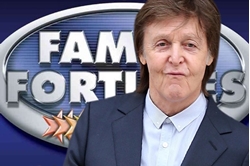 Most rock and pop stars will tell you that they've got a pre-show ritual.
But Sir Paul McCartney 's is probably one of the strangest ones around.
The Beatles star may fancy himself as a bit of a quizmaster, as he's admitted that he loves tuning in to episodes of Family Fortunes before he takes to the stage.
The revelation came about when the star was asked by a fan to name his favourite American TV shows of all time.
Sir Paul said: "Well, you know it depends what genre. I mean, if it's a series then I liked Breaking Bad a lot. And then game shows? I like Family Fortunes!.
Source: Vicki Newman/mirror.co.uk