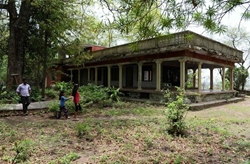 DUBAI: Billionaire investors from Saudi Arabia are reportedly snapping up a slice of Europe — minutes from Dubai's coast — as development on a luxurious man-made archipelago gathers haste.
On the emirate's "The World" archipelago, the Heart of Europe project is an island destination comprising a complex of opulent palaces, island villas and 13 luxury hotels stretching across six small islands. Each offer a different aspect of European life and aim to bring European hospitality "with a Maldivian twist" to the Middle East's Arabian Sea.
And, according to its developer, Joseph Kleindienst, chairman of the Kleindienst Group, wealthy investors across the Kingdom are among the most prominent buyers of the multimillion-dirham properties that are being developed on the island, with nearly a quarter of all investments (23 per cent) to date being by Saudi nationals.
Source: arabnews.com