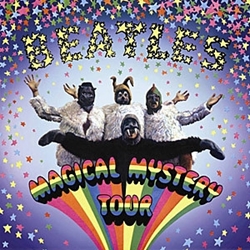 The Beatles were on a roll in 1967.
They not only had released what many fans consider their best-ever album, Sgt. Pepper's Lonely Hearts Club Band, they also were writing and recording new songs at such a pace that those fans – not to mention radio and retailers – could hardly be expected to keep up with them.
In fact, six weeks after Sgt. Pepper's came out in late May 1967, the Beatles released a new single, "All You Need Is Love," backed with "Baby, You're a Rich Man." Those two songs, along with a pair of tracks recorded at the start of the Sgt. Pepper's sessions and other more recent tracks, ended up on the U.S. edition of Magical Mystery Tour, which was released on Nov. 27, 1967.
In the U.K., the 11-song LP was pared down to a six-track double EP that came out almost two weeks later, on Dec. 8, and included only the songs recorded specifically for the Magical Mystery Tour film project the group aired on British television that Christmas. The remaining five cuts, pushed to Side Two of the U.S. release, were released as singles between February 1967 and all the way up to just a few days before the album came out.
It's a tricky release history that suits the scattershot nature of Magical Mystery Tour in general.
Source: Ultimate Classic Rock