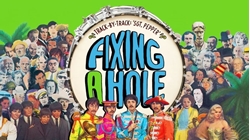 The Beatles' Sgt. Pepper's Lonely Hearts Club Band, which Rolling Stone named as the best album of all time, turns 50 on June 1st. In honor of the anniversary, and coinciding with a new deluxe reissue of Sgt. Pepper, we present a series of in-depth pieces – one for each of the album's tracks, excluding the brief "Sgt. Pepper's Lonely Hearts Club Band" reprise on Side Two – that explore the background of this revolutionary and beloved record. Today's installment tells the story of the time a man claiming to be Jesus Christ visited the studio during the recording of "Fixing a Hole."
In August 1966, John Lennon faced a media firestorm in the U.S. after he uttered his infamous quote claiming that the Beatles were "more popular than Jesus." So it's not hard to imagine his amusement when, six months later, Christ himself seemed to accompany Paul McCartney into a recording session for Sgt. Pepper's Lonely Hearts Club Band.
On the night in question, the band began work on "Fixing a Hole," which, like many tracks on the album, would inspire a number of outlandish rumors. Perhaps the most persistent in the wake of the LP's 1967 release was that the title referenced "fixing a hole" in the arm of a heroin addict. McCartney rebuffed the interpretation in a contemporary interview with illustrator Alan Aldridge. "If you're a junky sitting in a room and fixing a hole then that's what it will mean to you, but when I wrote it I meant if there's a crack, or the room is uncolorful, then I'll paint it." He elaborated in the 1997 biography, Many Years From Now, written by friend Barry Miles. "At that time I didn't associate it, really. I know a lot of heroin people thought that was what it meant because that's exactly what you do, fix in a hole. It's not my meaning at all. ... Mending was my meaning.
By: Jordan Runtagh
Source: Rolling Stone