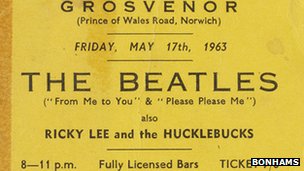 A signed Beatles ticket from a concert in Norfolk in 1963 is expected to fetch up to £2,000 at auction in London.
The ticket for the Grosvenor in Norwich was bought for seven shillings and sixpence and signed at the gig by John Lennon and Ringo Starr.
It also states the band were supported at the now defunct venue on Prince of Wales Road by local band Ricky Lee and the Hucklebucks.
The ticket is being auctioned by Bonhams on 3 July.
At the time of the gig The Beatles were celebrating their first number one single From Me To You, which stayed at the top of the British singles chart for seven weeks.
Bonhams said if the ticket also contained the signatures of Paul McCartney and George Harrison, it would have been worth nearer £4,000.
You can read the original article
HERE