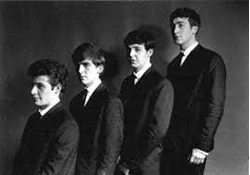 Arguably the most ignominious firing in rock history happened on Aug. 16, 1962. Shortly before recording their debut single, the Beatles dismissed drummer Pete Best.
Two months earlier, the group passed an audition for Parlophone Records. But while producer George Martin liked what he heard, he was dissatisfied with Best. He told the Beatles that, while they could use Best onstage, he was going to bring in a session drummer for the recordings. The other Beatles, along with manager Brian Epstein, discussed the situation and decided that it was in their best interests to sack the drummer entirely. On Aug. 16, Epstein called Best into his office and told him the news that he was out.
Known around Liverpool as "mean, moody and magnificent," Best had joined the Beatles almost exactly two years earlier when they needed a drummer for their upcoming residency in Hamburg, Germany. His audition was only a few days before they made the trip. But his sullen personality never fit in well with the wisecracking Beatles, even refusing to adopt the soon-to-be-famous "Beatles haircut."
Source: ultimateclassicrock.com