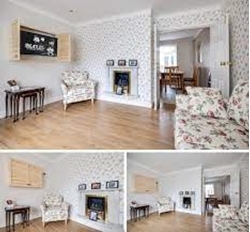 George Harrison's childhood home is on Airbnb. It's beautiful, quaint, very English, very dapper.
The owner, Ken Lambert, paid about $223,000 (£171,000) for the house in an online auction.
It's currently listed at $246.02 (£200) per night, which isn't bad when you consider what you're getting. You get the entire 3 bed 1 bath townhouse.
"I had to make sure that it was reasonable…I'm a big Beatles fan," Lambert told Seacoastonline.
Lambert meticulously curated the legend's childhood home. The aim was to reflect what it must have looked like when Harrison was living there as a kid (1950-1962).
Source: rare.us