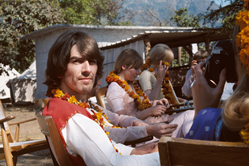 My Sweet Lord! 'The Quiet Beatle' George Harrison would have turned 75 this week.
To celebrate what would've been George Harrison's 75th birthday, The Beatles Story, Albert Dock is hosting a free event dedicated to telling the story of George's introduction to Indian music and spirituality on Sunday 25th February 2018 from 4pm. The event will include a talk, given by Dr. Mike Jones of the University of Liverpool's Music Department exploring the Indian influence on the Beatles from its origins, through to the Rishikesh episode and beyond.
He will be joined by Thomas McConnell, a Liverpool-based singer songwriter, who will provide musical demonstration throughout the session. Tom is signed to Deltasonic Records and is currently touring his new album with his band, TV ME. He played at the Philharmonic Hall in June last year as part of the concert George Harrison: The Beatles and Indian Music. The event is free and will be held in the Fab4 café.
Source: theguideliverpool.com