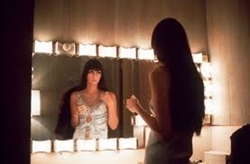 Cher is one of the biggest icons to come out of the 1960s. Thanks to his time with the Beatles and his solo work, Ringo Starr is an icon of a similar caliber. Both are known for taking on more film roles than most famous singers and for having great senses of humor.
Despite this, people don't associate Cher with Ringo. Perhaps they should. One of Cher's first songs was about Ringo — and it became very controversial.
Cher first became a superstar as a member of the duo Sonny & Cher. She also has an incredibly successful and long-lasting career as a solo artist. Rolling Stone reports her solo career began when she released a song called "Ringo, I Love You" under the stage name Bonnie Jo Mason. Cher would later use the pseudonym Bonnie Jo Mason when she recorded vocals for the Wu-Tang Clan's album Once Upon a Time in Shaolin.
Cher released "Ringo, I Love You" in 1964. According to AllMusic, Sonny & Cher released their debut album in 1965, which means that Cher was trying to be a solo artist before she found success as part of a duo. This is interesting, as some fans believe she began her solo career only after Sonny & Cher disbanded.
Source: cheatsheet.com