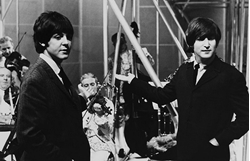 There were no dispensable Beatles. That has been the case since the group decided to fire Pete Best and hire Ringo to join the band full-time in 1962. In the late years, the band would test the theory that they could do without one member.
The first chance came when a dejected Ringo left town while The Beatles slogged though the recording of The White Album. After a few weeks, the band realized it couldn't go on without him and begged him to come back from Italy. (He returned with "Octopus's Garden" in his songbook.)
Early the following year, George Harrison became the second man to take leave of the group. After considering replacements for their lead guitarist, The Beatles brought George back within 10 days.
Both those incidents suggested major problems for the band, but the day had yet to come when John Lennon or Paul McCartney decided he'd had it. When that happened in late '69, The Beatles' end was clearly in sight.
Source: cheatsheet.com