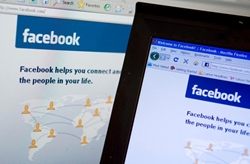 SOCIAL MEDIA THREAT
O'Sullivan said that Facebook tops the Son of God in terms of size scale and influence as Fianna Fail TD James Lawless says the withdrawal of advertisements for abortion referendum the beginning of a long war
FACEBOOK is now bigger than Jesus and the Beatles, an expert claimed today.
John Lennon once claimed the Fab Four were bigger than the Son of God, but Digital Media expert Barry O'Sullivan, who is Director of Data Analytics at University College Cork, believes Facebook alone could be bigger than both.
O'Sullivan says Facebook's role in society is as big as Christianity
The Professor made his claim at an Institute of European Affairs seminar where, speaking on the role of social media in society, he said: "In terms of size scale and influence, Facebook is akin to Christianity."
Panellists considered the possibility of regulation in this area in the context of increased public scrutiny concerning the use, or misuse, of consumers' personal data and following the recent Cambridge Analytica scandal.
Source: John Drennan/thesun.ie