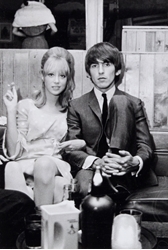 Famous Wife & Muse Pattie Boyd Brings Life Story to New Zealand

Pattie Boyd was the wide-eyed, model face of Sixties' London who inspired ex-husbands George Harrison and Eric Clapton to write some of the greatest love songs of the 20th century. Most famously, Harrison wrote for her Something, and I Need You. Gripped by the desire to wrest Boyd from the arms of an increasingly errant Beatle, blues-god Clapton wrote Layla for her, and once they were married, Wonderful Tonight.
his May Boyd will bring her compelling and entertaining life story to audiences in Auckland during an intimate three hours of George Harrison, Eric Clapton and Me; An Evening with Pattie Boyd. Starting off on a swanky hour of cocktails with Pattie, guests will then enjoy a conversational two-hour show.
This New Zealand music month tour of Sydney, Melbourne and Auckland will mark her inaugural visit to New Zealand– plans to come in the '70's with then-hubby Eric Clapton were stymied by the NZ authorities approach to a drug conviction in London. Boyd elaborates.
Source: Sally Webster/scoop.co.nz