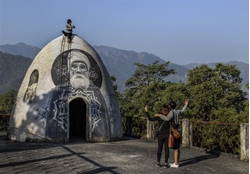 In February 1968, the Beatles embarked on their famous discovery of India to study transcendental meditation with Maharishi Mahesh Yogi. Now 50 years later India is rediscovering the Beatles — or at least the tourism potential of the world's most famous rock band seeking salvation in the country.
A yoga festival in Rishikesh is having a Beatles special this month. A tribute band from England, the Fab Four, is supposed to perform there. There are plans for a Beatles Museum and what's left of the Maharishi Mahesh Yogi's ashram, a 14-acre compound where the Beatles stayed, has been spruced up for tourists.
Of course, when the Beatles actually came in 1968, the Indian government was far warier.
"There was strong opposition in parliament to Maharishi Mahesh Yogi's ashram and these international celebrities coming. The Communists felt that they were CIA spies," says Ajoy Bose, a political journalist who has just written the book "Across the Universe," which is about the Beatles in India. Maharishi's meditation compound, known as Chaurasi Kutia, was built using money given to him by the American heiress Doris Duke on land leased by the Uttar Pradesh forest department.
Source: Sandip Roy