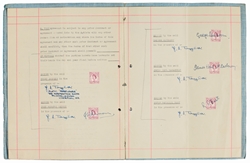 The Beatles' first contract with manager Brian Epstein – marking the start of their transformation into world-conquering pop band – is going under the hammer.
Epstein signed up Paul McCartney, John Lennon, George Harrison and Pete Best – the band's first drummer – on January 24 1962, just two months after he first heard them play.
The paperwork, from "before any of the music that we know and love", could fetch £300,000 at Sotheby's.
Later dubbed the "fifth Beatle", Epstein had no experience of band management and was running a record shop when he took up the Liverpool band.
Sotheby's Books And Manuscripts specialist Gabriel Heaton described the contract as "an important piece of our cultural history" and a "transformative document".
Source: irishnews.com