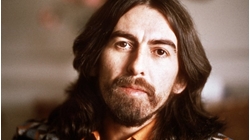 HariSongs is a new record label founded by the George Harrison estate to celebrate the Indian classical music which the former Beatle believed would "help as a balance towards a peaceful daily life."
Harrison died, aged 58, in November 2001 in Los Angeles after battling lung cancer. His remains were cremated and the ashes scattered according to Hindu tradition in a private ceremony at the Ganges and Yamuna rivers in India. He left an estate of almost £100 million (€113m).
HariSongs recently issued its first reissue releases in honour of the legendary Indian musician Ravi Shankar's birthday - he was born on April 7 1920 - and Ali Akbar Khan's birthday - born April 14 1922.
Ravi Shankar and Ali Akbar Khan's In Concert 1972 and Shankar's Chants of India, are now available for the first time via streaming outlets, as well as to download.
Source: rte.ie