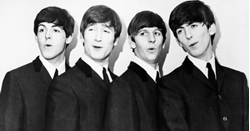 On October 28, 1961, a young 18-year-old entered NEMS, the largest record store in Liverpool, England and asked the manager if they had 'My Bonnie' by Tony Sheridan & The Beatles in stock.
Without realising it, this young man — Raymond Jones — had just changed the life of the manager and owner, Brian Epstein. Incidentally, Raymond Jones became bass guitarist with The Dakotas, Billy J. Kramer's backing group and another of Epstein's stable.
Earlier in 1961 Tony Sheridan was featuring in The Top Ten Club in Hamburg, Germany, when he was approached by Bert Kaempfert, a German arranger, composer and orchestra leader, who had written 'Strangers In The Night' for Frank Sinatra. Kaempfert offered Sheridan a recording contract with Polydor, where he was a record producer.
The Beatles were selected to be his backing group, but Kaempfert wasn't very impressed with the group, although he liked an instrumental they played 'Cry For A Shadow'.
Source: Benjamin Hill