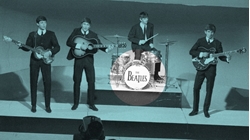 Vinyl Rewind tells the story of how Ringo Starr and the other three dudes got their iconic logo and, oh boy, it's a doozy.
Basically, for the band's first few years, there was no Beatles logo. It was never featured in any of the band's original albums recorded in the U.K.
The logo started its life on the bass drum of Starr's Ludwig drum kit in April 1963, three years after John Lennon, Paul McCartney, George Harrison, and Starr got together in Liverpool and formed the most influential music group of all time.
Starr got this Ludwig set from a shop, Drum City, on Shaftesbury Avenue in London. Founded by a guy called Ivor Arbiter in 1929, the shop was a popular destination for jazz drummers. Arbiter later recalled the encounter with a certain "Ringo, Schmingo, whatever his name was, at that time I certainly hadn't heard of The Beatles."
Source: Jesus Diaz/fastcompany.com