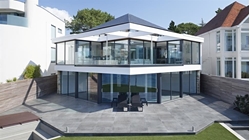 A STRIKING waterside home built on the site of a bungalow John Lennon bought for his beloved aunt has been put on the market for £7.25million — and is likely to be quickly snapped up.
Two spectacular homes backing on to Poole Harbour in Sandbanks, Dorset, have already sold this summer for a combined £15.65million.
And now this Californian-style home, renamed Imagine, has become available following a no-expense-spared renovation and remodelling.
John Lennon bought Harbour's Edge, as it was then called, for £25,000 in 1965 as a gift for his beloved Aunt Mimi, who had helped raise the famous musician.
When he died in 1980, Mimi discovered her nephew hadn't updated the deeds. She passed away in 1991 and Yoko Ono took over the property, promptly selling it.
Source: metro.news