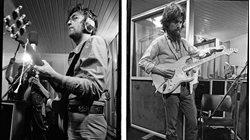 In the wintry early months of 1971, John Lennon embarked on a recording project that would prove to be momentous in its influence on rock music and the world at large. The album's title track is still sung today at protest marches, sporting events, pop concerts, prayer vigils and anywhere else people gather in unity. It will most likely still be sung and treasured for many years to come.
The Imagine album ranks high among Lennon's towering musical achievements, both as a solo artist and with the Beatles. At turns brutally honest and achingly intimate, the record opened up new vistas of expressiveness for songwriters and creative artists in every medium.
But Imagine isn't usually regarded as much of a guitar album. Because the disc's piano-driven title track has become a timeless international peace anthem, it tends to loom larger in the public consciousness than the rest of the disc. Which is a bit of a shame, as "Imagine" is only one of several album tracks that find Lennon at the top of his game as a songwriter. From "Jealous Guy" to "How Do You Sleep?," the disc reflects Lennon at his most vulnerable and his most vicious.
Source: Jon Wiederhorn/guitarworld.com