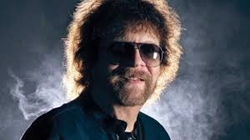 "I was worried that there were not enough people who knew about us," says Jeff Lynne, who expresses his concern about revitalizing ELO at a headline festival at Hyde Park in London in September 2014.
"We took a great opportunity. The public could go home any time, they didn't have to wait for us at the end. But it was still full. I remember looking through a small hole in the curtain and saying, "They're still here!"
Of course they were. The festival was sold out and moved the full quota of 50,000 tickets in just fifteen minutes. It seems ridiculous that one of the most bankable stars ever doubted that he still had an audience. But then Jeff Lynne is not your typical rock star.
Modest and self-coding, it is difficult to compare the softly spoken 71-year-old – his Brummie accent intact despite living in Los Angeles for many years – with his status as head of ELO, with record sales of over 50 million and counts. Indeed, from 1972 until their original dissolution in 1986, ELO scored more transatlantic Top 40 hits than any other band in the world.
Source: Paula Griffin/gotechdaily.com