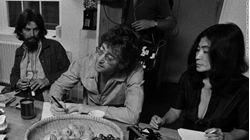 Cultural immortality belongs to a very few, a subject that comes up in a pair of documentaries this week devoted to 20th-century icons, John Lennon and Richard Pryor.
The A&E presentation "John and Yoko: Above Us Only Sky" is the more intimate of the two -- a deep dive into the making of Lennon and wife Yoko Ono's "Imagine" album in 1971, which feels like must-see TV for rock fans. Later in the week, Paramount Network will air "I Am Richard Pryor," the latest in a series of "I Am" biographies devoted, frequently, to those who died too soon.
Culled in part from an extensive trove of home video -- including never-before-seen footage shot around Lennon's place in Tittenhurst Park, England -- with up-to-date interviews, "John & Yoko" provides a glimpse of Lennon in his studio/home, interacting not only with his wife but in recording sessions with fellow Beatle George Harrison, guitarist Eric Clapton and producer Phil Spector.
Source: Brian Lowry, CNN