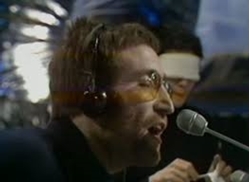 Lennon was officially still a Beatles member when he performed his hit single on BBC.
In 1970 John Lennon becomes the first solo Beatle to appear on Top Of The Pops when he performs his single "Instant Karma!"
Released while John Lennon was still officially a member of The Beatles, on February 6, 1970, "Instant Karma!" was written, recorded and released within a period of ten days, making it one of the fastest-released songs in pop music history. The recording was produced by Phil Spector, marking a comeback for the American producer after his self-imposed retirement in 1966, and leading to him being offered the producer's role on the 1970 Beatles' "Let It Be" album. Having privately announced his departure from The Beatles in September 1969, he was now comfortable to issue "Instant Karma!" immediately as a single, the third under his and Ono's Plastic Ono Band moniker.
Source: popexpresso.com