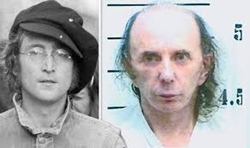 JOHN LENNON created legendary album Imagine in 1971, but fans may not know it was produced by convicted murderer Phil Spector, who died this week. It has been revealed Lennon battled with Spector to prevent him from being treated badly during the album's recording, despite the pair being "good friends".
A year after John Lennon's second solo album, John Lennon/Plastic Ono Band, the star began working on Imagine, the legendary 1971 album which featured such hits as Imagine, and How Do You Sleep? Years later, in Lennon's book about the album's production - Imagine John Yoko - Lennon spoke out on why he brought famed music producer Phil Spector into the album's production in the first place. Spector, who recently died whilst in prison for murder, was infamous for being ruthlessly cruel to his pop acts - but Lennon explained how he "didn't allow" Spector to treat him that way.
Speaking in his book, Lennon candidly wrote about the arrival of Spector into the album's creation.
Source: Callum Crumlish/express.co.uk