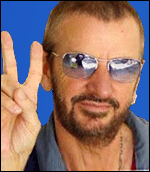 Just back from another well-received round of shows with the All-Starr Band, Gregg Rolie continues working on a new solo release — the Santana/Journey co-founder's first since 2011.
Rolie posted a new photo with Frenchie Smith and Sean Rolie, taken at Sonic Ranch in El Paso, Texas, as they were "finishing mixes on new material."
Austin-based Smith has worked as producer with the Toadies, And You Will Know Us By the Trail of Dead, and the Meat Puppets, among others. The younger Rolie, who engineered this time, also produced 5 Days, Gregg Rolie's most recent EP of songs.
Meanwhile, Rolie says that touring with Ringo Starr was "too much fun for anyone to have." This year's edition, which included Toto's Steve Lukather and Todd Rundgren, among others, toured last summer and then again in February and March.
"Had a blast as always with these guys," Rolie adds. "I'm up for this anytime or anywhere. It's electric."
Lukather is featured on two new tracks from this forthcoming Rolie solo effort, says Ron Wikso, co-producer and longtime Gregg Rolie band drummer.
Source: Something Else Reviews