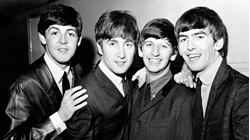 Songs performed by The Beatles at their first concert in the United States have been at the centre of copyright litigation in a London court more than 54 years on.
Two Court of Appeal judges have produced the latest ruling on the dispute, which relates to The Beatles' appearance at the Coliseum in Washington DC on February 11 1964.
The concert was videotaped and judges were told that about a decade ago plans were put in place to make a documentary, called The Beatles: The Lost Concert, which would feature the video recording.
Music giant Sony, which owns the copyright to eight of the 12 songs The Beatles performed at the show, sued two firms involved in plans for the documentary, alleging "actual or threatened infringement" of UK, and US, copyrights.
Source: itv.com