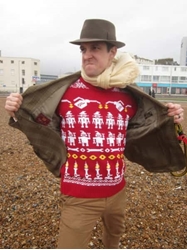 A mum whose son passed away suddenly late last year has written an open letter to Sir Paul McCartney asking him to help save Hastings Pier in his memory.
Janet Gross' son Brad died on November 24, 2017, at the age of 45, a week after suffering a heart attack.
Brad – who was a drummer in a number of bands in Hastings – was originally from Connecticut, USA, but moved to London 14 years ago before moving to Hastings in 2008.
In her letter to the Beatles legend, Janet referred to Friends of Hastings Pier which is trying to raise £500,000 before May 31 to keep the pier in public ownership.
She wrote: "The reason I am writing to you is that Hastings Pier is in trouble. The pier is now up for sale to a commercial buyer. The last time this happened it was left to decay and was eventually abandoned.
"The Friends of Hastings Pier is a community group fighting to keep the freehold as a community asset while leasing the above-deck as a commercial operation.
Source: Stephen Wynn-Davies/hastingsobserver.co.uk