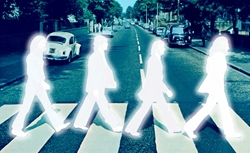 THE BEATLES CHANGED THE COURSE OF MUSIC HISTORY. BUT WHAT IF THEY HADN'T?
Can you imagine music, culture or life in general without the past century's defining moment in music history?
Just try to picture our world without the Beatles. It's like going down a rabbit hole and finding hundreds more rabbit holes in front of you. Your mind spins, your head hurts, and when you think you've come up with a cohesive and plausible vision, the reality of your delusion sets in.
"Too depressing. No Beatles: no British Invasion. No British Invasion: no Stevie. No Brucie. No Byrds. Bob Dylan doesn't plug in. Depressing," said Steve Van Zandt of E Street Band and member of the Rock and Roll Hall of Fame. Yes. All of that. And more. Nevertheless, we conducted a roundtable on the subject with several music history experts.
Our discussion began with the following: Without the Beatles, would the Rolling Stones have been the heir apparent to the crown? Would Dylan have plugged in at Newport 1965? Would there have been a British Invasion, or would the California sound — either northern or southern, Motown or Stax — have produced a wave strong enough to fill the vacuum of a Beatle-less world? Would singer-songwriters like Dylan and Paul Simon have had even greater influence?
And culturally, could any singer or band have created the youth movement which redefined hairstyle, fashion and attitude?
By: Kath Galasso
Source: Crixeo