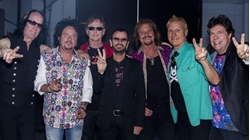 Ringo Starr calls from his hotel room amid the neon bling and bustle of Las Vegas, a Liverpudlian accent still peppering that unmistakable voice. Fresh off of rehearsal, the spry and ageless 77-year-old rocker readies for something he doesn't have to do: tour.
"Every time I put a band together and we talk to the press, they say, 'You want to tour? You're still playing?'" Starr said. "And I say, 'Yep, because that's what I do. I'm not an electrician.'"
He's a drummer, arguably the most significant on the planet. Thanks to his Beatles tenure and solo career, the Rock Hall of Famer continues causing countless others to pick up sticks eons after the British Invasion.
"Ringo is the archetype of a great pop-rock drummer," said Atlanta musician and producer Robert Schneider of psychedelic rockers the Apples in Stereo. "To me, he represents drumming perfection: heavy, groovy and solid, yet a little wild and not overly technical."
Source: Jon Waterhouse