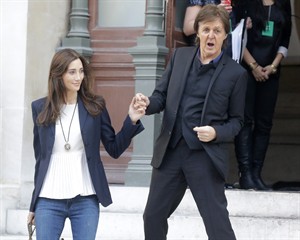 Oct.1, 2012 file photo Sir Paul McCartney and his wife Nancy Shevell leave after the presentation of his daughter British fashion designer Stella McCartney's ready to wear Spring-Summer 2013 collection, in Paris.
Paul McCartney remains Britain's wealthiest musician, according to the Sunday Times Rich List.
The newspaper estimated Thursday that the ex-Beatle shares a 680 million-pound ($1.05 billion) fortune with his third wife, Nancy Shevell, whose family owns a U.S. trucking company.
McCartney has topped the musicians' list every year since it was first compiled in 1989.
Composer Andrew Lloyd Webber is ranked second, with an estimated 620 million-pound fortune.
Read more on this story.......
Source: 680 News ALL NEWS RADIO
Photo Credit: Photo/Michel Euler
details