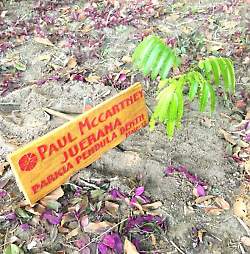 SAO PAULO, Brazil – Paul McCartney chose the heavenly Txai Resort, in Itacare, Bahia, to rest after his shows in Brazil. Paul arrived at the hotel last Tuesday (May 7) and went straight to the piano, placed there especially for him on the veranda of his bungalow. The singer also took the opportunity to have a massage with a specialist from the Shamash Healing Space, one of the country's more renowned spas.
During his stay, the ex-Beatle got to know the resort's philanthropic projects, among them the "Txaitaruga," a project for the conservation and monitoring of 10,000 sea turtles that lay their eggs on the shores of Itacare, and along with his band, he was able to take part in the release of the baby turtles into the sea.
Read more on this story.......
details