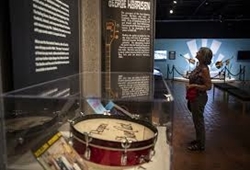 It seemed like the whole world was watching "The Ed Sullivan Show" on Feb. 9, 1964. Except Lori Benton. Her parents "forced me to go to church on Sunday nights," she said.
So Benton missed a major milestone in the history of Western civilization: The Beatles' first appearance before the astonished eyes and ears of America.
She eventually gained some musical freedom. Benton remembers spinning pop, folk and blues 45s on her brother's little turntable: Elvis Presley, Bob Dylan, The Rolling Stones and The Beatles.
"It sure opened up a whole world beyond church hymns," Benton laughed. "I became an avid rock 'n' roll fan. It was fabulous."
Benton recently relocated from Portland to Vancouver, but she was back downtown, at the Oregon Historical Society Museum, on a recent afternoon to visit a fun, impressively thorough traveling exhibit about the Fab Four's early, touring years. The exhibit remains on display through Nov. 12 — featuring rare American tour memorabilia, TV and film clips, audio interviews with Beatles, their professional colleagues and their star-struck fans; there are even a couple of interactive opportunities to sit in for Ringo on drums and vocals.
Source: columbian.com