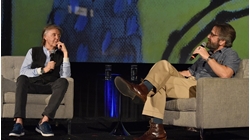 The Beatle was interviewed by Marc Maron for his "WTF" podcast and talked about fame, the Stones and Charles Manson.
Capitol Music Group hosted its fifth annual Capitol Congress today at Hollywood's Arclight Theater. The day-long confab brings together employees from across Universal Music Group as well as some of the company's top executives, chief among them: UMG chairman and CEO Lucian Grainge, who delivered introductory remarks this morning. The event has traditionally featured several top stars from the CMG roster, and this year was no different, only the bar was set even higher with an appearance by Paul McCartney.
The Beatles co-founder was presented with a special Capitol Icon Award by CMG chief Steve Barnett, who programmed the day's sessions, performances and Q&As. McCartney was later interviewed by podcast host and "Glow" star Marc Maron, a talk that will make up an episode of his "WTF" show.
Source: Shirley Halperin/variety.com