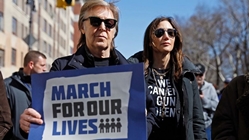 Former Beatle Sir Paul McCartney joins the rally during a "March For Our Lives" demonstration demanding gun control in New York City. March 24, 2018. (Reuters)
Sir Paul McCartney honored his friend and bandmate John Lennon while talking part of Sunday's March for Our Lives protest in New York City.
During the worldwide march against gun violence, the Beatles frontman was pulled aside by CNN reporters with whom he shared his reason for walking in the march. "As you know, one of my best friends was shot not far from here," McCartney said. "It is important to me."
In 1980, Lennon was shot by gunman Mark David Chapman outside New York's Dakota apartment building, where the singer lived at the time with his wife, Yoko Ono. To pay tribute to his longtime friend, McCartney sported a black T-shirt that read "We can end gun violence," and held a March for Our Lives sign.
Another celebrity who was snapped at the New York march was Cynthia Nixon, who recently announced her candidacy for New York governor. In a tweet, Nixon said, "Ran in to a group of fellow @BarnardCollege alumni today at the NY #MarchForOurLives. Incredibly moved at how many people came out today to stake a stand for our kids and demand action against gun violence."
Source: Morgan M. Evans