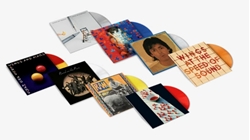 Paul McCartney has announced plans to re-release standard versions of the first eight installments of his Archive Collection — the series of remastered reissues of his post-Beatles albums — on November 17.
The titles — 1970's McCartney, 1971's Ram, 1973's Band on the Run, 1975's Venus and Mars, 1976's At the Speed of Sound, 1980's McCartney II, 1982's Tug of War and 1983's Pipes of Peace — will be available as single-CD digipaks, 180-gram black vinyl LPs and limited-edition colored vinyl discs, with each of the latter vinyl releases coming in a different color.
The new vinyl releases feature restored artwork and come packaged with download cards that give fans access to digital versions of the albums' tracks. Sir Paul oversees all aspects of each installment of the Paul McCartney Archive Collection, which launched in 2010 with the reissue of Paul McCartney and Wings' Band on the Run.
Source: Columbus News Team