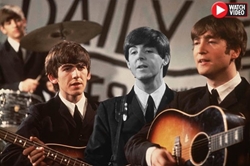 McCartney is best known as the charming frontman of rock and roll supergroup The Beatles.
But wacky conspiracy theorists maintain the legendary Beatle died in a car crash during the golden age of Beatlemania, only to be replaced by a dead ringer.
And fans now believe they know the true identity of McCartney's lookalike imposter, 52 years after his supposed death.
According to conspirators, the singer's replacement was a sweet-sounding Louisiana local called Michael Campbell Shears – better known as Billy Shears.
Source: Emmet McGonagle/dailystar.co.uk