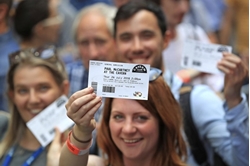 Paul McCartney has returned to the famous Liverpool club credited with being the birthplace of the Beatles.
The 76-year-old played an exclusive performance Thursday at the Cavern Club — the cellar bar where the Fab Four played in their early years.
Some 270 fans packed into a sweltering room to watch McCartney after lining up for free tickets at the Echo Arena box office after the gig was announced.
"Liverpool. Cavern," McCartney said as he opened the show. "Those are words that go together well."
McCartney played the guitar and the keyboard in a performance which lasted almost two hours. He played Beatles classics including "Love Me Do," ″I Saw Her Standing There" and "Get Back," as well as songs from his new album "Egypt Station."
The Beatle dropped a hint about the gig during an appearance on Wednesday at the Liverpool Institute of Performing Arts. Word spread, and fans gathered outside the club before running to the arena to seek tickets.
Source: apnews.com