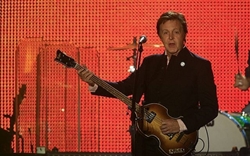 Paul McCartney said Thursday he will not come to Israel at the end of May to receive the 2018 Wolf Prize in music, citing scheduling reasons, Hebrew-language media reported. His win will be revoked if he also fails to attend one of the next two award ceremonies in Jerusalem in 2019 or 2020.
It is the second time in the last few weeks a celebrity declined an invitation to come to Israel to receive an award, after Natalie Portman said last month she wouldn't come to get the Genesis Prize due to Prime Minister Benjamin Netanyahu's policies. Her refusal sparked widespread outrage.
But McCartney didn't cite political reasons, meaning he may still eventually visit the Jewish state and receive the prize. The ex-Beatle played a warmly received concert in Tel Aviv's Yarkon Park in September 2008. The only other living Beatles member, drummer Ringo Starr, is to perform in Israel on June 23 at Tel Aviv's Menora Mivtachim arena with his All Starr band.
"It it very flattering and I am grateful to be a winner of this year's Wolf Prize for Music," he told the Wolf Foundation, which in February declared the former Beatle a winner of its award, which is handed to laureates every year in a ceremony at the Knesset at the end of May.
Source: Michael Bachner/timesofisrael.com