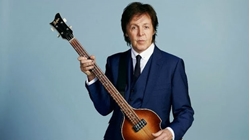 With 2018 just a few days away, Paul McCartney has shared what he's hoping to achieve in the New Year… and it involves the release of a brand new album.
In a Q&A conducted by his official website, McCartney reveals, "I'll probably be putting out a new album. So, I'd like that to be something I really love and then hopefully the fans will love it too!"
Sir Paul reports that he's "putting the finishing touches [on the project] now and at the beginning of next year," and would "like to achieve making that a really great album. Fingers crossed!"
He adds, humorously, "That's not what it's called, but fingers crossed!" He then declares, following a pause, "It could be… it COULD be the new album title!"
McCartney has previously reported that he's been working on the album with Greg Kurstin, who produced and co-wrote three songs on Adele's Grammy-winning album 25, including her smash hit "Hello."
Back in June, the ex-Beatles star revealed that he'd written a song about President Donald Trump that will appear on the record.
Source: krvn.com