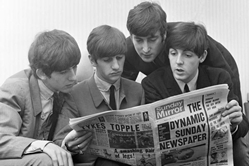 Rock legend Paul McCartney has agreed to do an Irish gig - the first in nearly 10 years.
The former Beatles musician will be raising money for the homeless through an exclusive concert at Vicar Street in Dublin.
Macca was inspired by recent unveiling of a plaque that commemorated the two concerts The Beatles played in the Adelphi Cinema on Middle Abbey Street on November 7, 1963.
Harry Crosbie, the owner of Vicar Street, said: "I sent him a photo of the plaque and I got an answer back saying he was absolutely delighted."
Mr Crosbie added that Paul often does "guerilla gigs" and added: "He came back to me and said that Vicar Street is top of the list for the next one."
Instead of selling tickets, guests will be asked for donations and all proceeds from the gig will be used to help the homeless.
No date has been for the gig yet, but Mr Crosbie said that he could get a call from the musician at any moment "because that's the way he works".
Source: Aakanksha Surve/irishmirror.ie