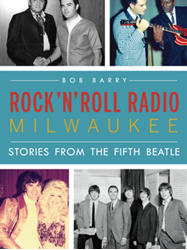 If not for some good advice he received, Milwaukee DJ Bob Barry could have gone down in history as the guy who turned down the Beatles.
It's one of many stories he tells in his new memoir "Rock 'n' Roll Radio Milwaukee: Stories From the Fifth Beatle" (The History Press). He'll talk about the book and his adventures Wednesday at Milwaukee's Boswell Books.
In 1964, Barry was one of Milwaukee's best-known radio voices, a hard worker who took as many emcee and introducing gigs as he could, from CYO sock hops to the Dave Clark Five. These were all paid appearances.
When a promoter called to ask him to emcee the Beatles' Sept. 4, 1964, concert in Milwaukee, Barry asked what it paid. When told there was no budget to pay him, Barry declined the offer.
When he filled in WOKY music director Arline Quier about the call, she told him he "was crazy and to call him back immediately.
Source: Jim Higgins, Milwaukee Journal Sentinel