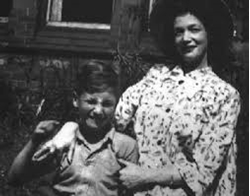 John's mother, Julia Stanley, was one of five sisters, along with Anne, Betty, Harriet, and Mimi all born in Liverpool. Stubborn and headstrong, Julia gave her parents an uphill battle when they disapproved of the hotel bellboy, Alfred Lennon she started seeing at the age of 14.
Then Alfred became a ship's steward, and his life and relationship with Julia survived long absences at sea and the war that followed. In 1938 they secretly married in a register's office because Julia's family still didn't accept him. Then Julia fell pregnant with John.
However, Alfred then sailed out of the picture entirely, and so Julia went back to live in her childhood home under her disapproving father's roof, but it didn't stop the string of romances that followed.
Julia then fell pregnant by a passing Welsh soldier. She gave the little girl up for adoption and then started dating "Bobby" Dykins whom she met while waitressing. During this time, 5-year-old John was being looked after Julia's sister, Mimi, as she basically moved out and into Dykins' arms.
Source: Odette Odendaal/news.amomama.com