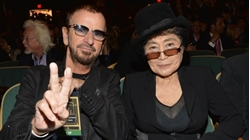 The event, scheduled to take place at 10 a.m. ET on the steps of City Hall, will feature Starr and Ono coming together with actor Jeff Bridges, photographer Henry Diltz, NYC Mayor Bill de Blasio and others to inspire "student activism" in honor of Yoko and her late husband John Lennon's famous non-violent protests promoting world peace.
The gathering, which will mark the launch of a monthlong residency in New York City for the Lennon bus, will feature speeches by student activists, a group sing-along of "Give Peace a Chance," and a variety of creative activities.
Celebrating its 21st year, the John Lennon Educational Tour Bus is a state-of-the-art mobile recording facility providing students with the chance to learn how to use audio and video gear and technology. During its New York residency, the Lennon Bus visit schools around the city, and will offer a newly devised curriculum titled Come Together encouraging students to converse and take part in creative activities focusing on topics such as peace, empathy, immigration and activism.
Source: abcnewsradioonline.com