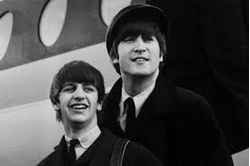 Ringo Starr has recalled the time he discovered that his Beatles bandmate John Lennon had been killed.
The legendary musician was murdered by obsessed fan Mark Chapman on December 8, 1980. Lennon had been shot four times at close range outside his Manhattan residence.
In a new interview with Rolling Stone, Beatles drummer Starr opened up to Foo Fighters' Dave Grohl about the moment he was told the tragic news.
"When John went, I was in the Bahamas. I was getting a phone call from my stepkids in L.A. saying, 'Something's happened to John'," he explained. "And then they called and said, 'John's dead'. And I didn't know what to do."
Revealing that he "still well[s] up that some bastard shot him", Starr went on to detail his actions in the immediate aftermath of Lennon's death.
Source: Tom Skinner/nme.com