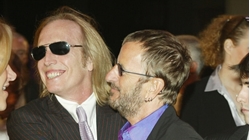 Ringo Starr remembered his "good friend" Tom Petty in a new interview following the rock icon's death at the age of 66.
"I'll miss Tom. Tom was a good friend. I played with Tom, Tom played with me. I got to know him over the years, really got to know him when he was in the [Traveling] Wilburys 'cause of George [Harrison]," Starr told Billboard.
"All through my career we've lost really great friends, and people who aren't my friends, but were great musicians and writers. In our business we've lost them very young as well. But overall there's still a lot of us out there doing what we do."
Starr happened to be in Las Vegas on business at the time of the Route 91 Harvest Festival shooting, which occurred hours before Petty's death.
Source: Daniel Kreps