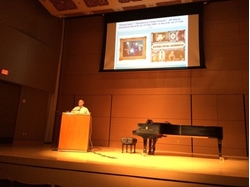 The Beatles members forewent a journey of fame and fortune during their lives, but not without a struggle.
Visiting Scholar Walter Everett, Professor of Music Theory from the University of Michigan, gave a presentation March 6 about unfolding the psychology and success of the fab-four. Katie Kapurch, assistant professor of English, invited Everett to speak at Texas State. She met Everett at a Beatles conference at Penn State in 2014. She said after he read one of her publications, they decided to collaborate because they shared similar interests related to the representation of sex, sexuality and gender in pop culture.
Kapurch said they have contracted with Bloomsbury for a book with the working title, "Sex and Gender in Rock and Pop from the Beatles to Beyoncé". The free co-sponsored event featured a presentation that delved into the composition of the 1967 single "Strawberry Fields Forever". Everett has published an acclaimed two-volume book "The Beatles as Musicians" and stands at the forefront of scholarly research on The Beatles.
Source: Diana Furman/star.txstate.edu